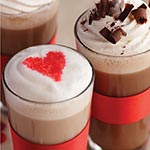 Valentijnsdag recepten
Add a little romance to your drinks and desserts!
Speciaal voor Valentijnsdag heeft Torani twee heerlijke recepten gemaakt om je grote liefde te verrassen!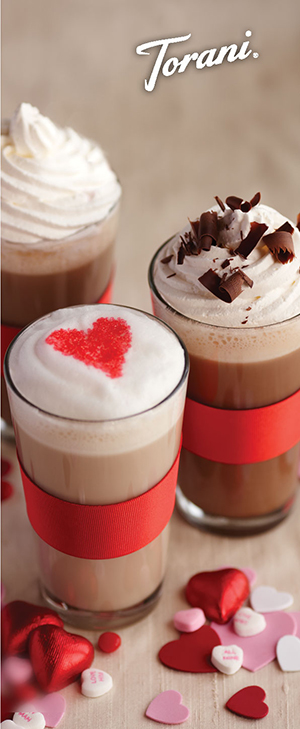 Kaneel – Appel Schnaps
Ingrediënten:
6 el vodka
4 el schnaps (appel)
1/4 kopje appelcider
2 el Torani Cinnamon Syrup
Vul de cocktailshaker voor de helft met ijs. Doe daarna alle ingrediënten in de shaker en goed schudden. Maak een mooi wit randje om een martiniglas door eerst de rand van het glas in siroop en daarna in suiker te dippen. Vul het glas voorzichtig met het drankje en smullen maar!
Amandel – Maïs Cake
Ingrediënten:
1/2 kop boter op kamertemperatuur
1/4 kop geroosterd amandelschaafsel
3/4 kop Torani Almond Syrup
4 eieren (eiwit van eigeel scheiden)
1 kop meel
1/2 kop maïsmeel
1 el bakpoeder
1/2 el zout
Verwarm de over voor op 180°C.  Mix de boter, amandelen en Torani siroop tot een glad mengsel. Voeg daarna het eigeel toe en nog een keer goed mixen. Meng het meel, maïsmeel en bakpoeder goed door elkaar. Voeg voorzichtig de mix van het meel in het andere mengsel. Eiwitten stijf kloppen en voorzichtig door het mengsel roeren. Vet eerst het bakblik goed in met boter. Het bakblik vullen met het mengsel en 40 minuten in de oven.  Af laten koelen en in plakken snijden. Heerlijk te serveren met boter of jam.