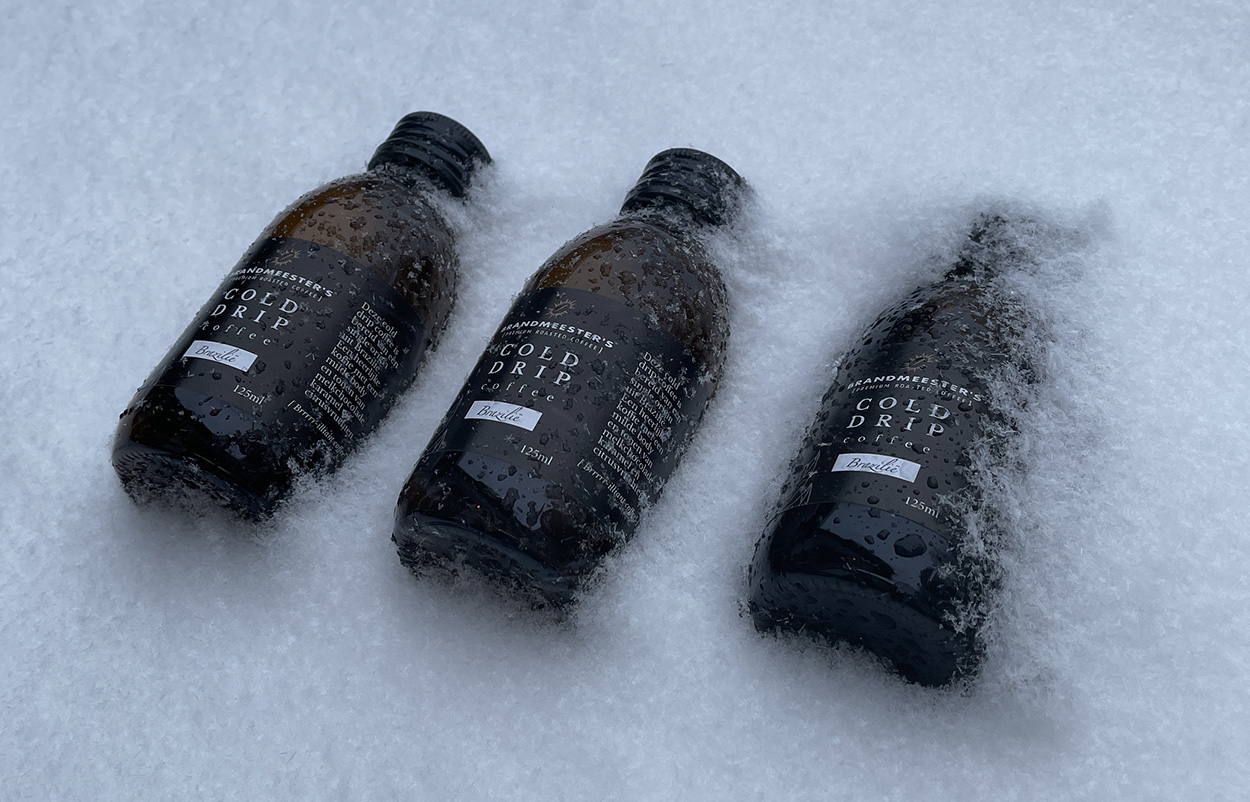 Cold Drip Coffee
Tadaaaa, onze cold drip coffee is vanaf nu verkrijgbaar in onze webshop en brandstore in Amsterdam!
Deze cold drip coffee is bereid met onze koffiebonen van de plantage Fazenda do Lobo 'boerderij van de wolf' uit Brazilië. Vernoemd naar de Lobo Guara manenwolf die daar leeft. IJskoud water druppelt in 18 uur tijd door onze vers gebrande koffiebonen. Door de unieke bereidingswijze krijgt de koffie een volle en complexe smaak. Een heerlijke koude koffie met tonen van melkchocolade, karamel en citrusvruchten. Zonder toegevoegde suikers en smaakstoffen.
Bewaar de Cold Drip in de koelkast. Zo is deze gelijk op de juiste temperatuur om te consumeren.
De cold drip coffee is los (125 ml), in cadeauverpakking (3 stuks met receptenboekje) of per tray (24 stuks) te bestellen in onze webshop.
Heb je interesse om deze cold drip in jouw horecazaak of winkel te verkopen of misschien voor je medewerkers of collega's op kantoor?? Neem dan contact op met onze verkoopafdeling 023-5123090 of stuur een e-mail naar onze verkoopafdeling.
---
Drink de cold drip ijskoud puur of in een mix.
Good [C]old Gin Tonic
• ijs (blokjes of crushed)
• 40 ml cold drip
• 130 ml tonic
Optioneel
gin of 0.0 gin
Tip: Fever Tree 
elderflower tonic
---
Cold Drip Ginger
• ijs (blokjes of crushed)
• 40 ml cold drip
• 150 ml ginger ale of ginger beer
Optioneel
gin, 0.0 gin of bourbon whiskey
---
[C]old Fashioned
• 1 groot ijsblok
• 40 ml cold drip
• 10 ml Torani suikersiroop
• 3-5 druppels Angostura Bitters
• 30-60 ml bourbon whiskey
• een sinaasappelschil
---
Cold Drip Martini
• ijs (blokjes of crushed)
• 40 ml cold drip
• 20 ml koffielikeur
• 5 ml Torani suikersiroop
• 30 ml vodka
Doe alle ingrediënten in een shaker met het ijs en schud 10 tot 15 seconden en schenk uit in een glas.
---
Amaretto Drip
• 60 ml cold drip
• 30 ml Amaretto
• 40 ml melk (koe- of plantaardig)
Zorg dat alle ingrediënten goed koud zijn!
---