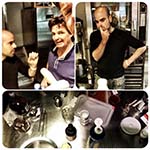 World Coffee in Good Spirits 2013
Afgelopen maand heeft onze José Mollura Nederland vertegenwoordigd op de World Championship Coffee in Good Spirits in Nice, Frankrijk. Bij deze competitie ging het om koffie en "spirits"… alcohol dus. De kandidaat moest twee identieke Irish coffees maken en twee koffie- en alcoholcreaties naar eigen keuze. De volledige presentatie had een duur van 8 minuten waarin de barista al zijn of haar vaardigheden moest laten zien. Vol spanning zaten we aan de buis gekluisterd om José aan te moedigen. José werd 10e van de 21 deelnemers. Een zeer goede prestatie!. De winnaar van WCIGS 2013 is Victor Delpierre uit Frankrijk.
Meer informatie over World Coffee in Good Spirits 2013: www.worldcoffeeingoodspirits.org
27 juni 2013
Een erg spannend moment vandaag, de uitslag van de World Coffee in Good Spirits 2013!
Uitslag
Winnaar: Victor Delpierre, Cafés Richard, Frankrijk
2e: Marcin Wojciak, Java Coffee, Polen
3e: Gordon Howell, United Academy of Coffee, Verenigd Koninkrijk
4e: Dimitrios Konstantopolous, Tailor Made, Griekenland
5e: Gerard Meylaers, Baristabar, België
6e: Martin Hudak, Dublin Café, Slowakije
 26 juni 2013
24 juni 2013
16 juni 2013
Opzet en routine testen in de eigen studio met Sander Schat.

13 juni 2013
Experimenteren met diverse cacao bestandsdelen bij chocolatier Metropolitan met Kees Raat www.metropolitandeli.nl
10 juni 2013
Bepalen welke smaken (smaakpalet) met elkaar zijn te matchen.