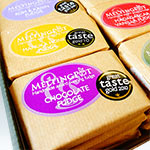 Nieuw! MeltingPot Fudge
Blackthorn Foods is een familiebedrijf gevestigd in Belfast in Noord-Ierland. Na maanden van onderzoek en uren achter het fornuis staan werd in 2004 Blackthorn Foods opgericht door drie zusjes Cathy, Jenny en Dorothy. Zij zijn gespecialiseerd in het maken van bekroonde handgemaakte fudge.
Op traditionele wijze maken ze handgemaakte fudge van hoge kwaliteit met een unieke smaak en textuur. Jaar na jaar winnen ze awards voor hun befaamde fudge. Meltingpot fudge is niet te vergelijken met andere soorten fudge, want er wordt alleen gebruik gemaakt van natuurlijk ingrediënten en er worden geen aroma's gebruikt. De verpakking is mooi, eenvoudig en natuurlijk. Ideaal als geschenk of om lekker zelf van te smullen! Verkrijgbaar in verschillende smaken.
Je kunt de MeltingPot Fudge kopen in één van onze winkels in Amsterdam, Utrecht of Haarlem.