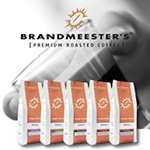 Koffie zakelijk
Fijnproevers weten het al langer; Brandmeester's is dé leverancier voor de echte liefhebber van koffie en thee! In onze eigen winkels maar ook 'business to business'. Steeds meer bedrijven erkennen de toegevoegde waarde van onze kwaliteit, onze service en de kracht van ons merk.
In onze branderij in Boesingheliede branden wij op ambachtelijke wijze in kleine hoeveelheden. Zo houden wij controle over de kwaliteit en versheid van onze koffie. Dat wij dat op een duurzame manier doen, waarmee wij het milieu zo min mogelijk belasten, is voor ons vanzelfsprekend.
Wij schenken net zoveel aandacht aan onze thee. Deze wordt door ons met zorg geselecteerd en verpakt in mooie transparante piramidevormige theezakjes.
Hieronder vindt u een beknopt overzicht van de mogelijkheden. Voor meer informatie of een proefpakket kunt u contact op nemen met onze verkoopafdeling 023-5123094 of e-mail: verkoop@brandmeesters.nl.
Bent u al klant? Of wilt u nog meer online info? Ga dan naar onze zakelijke pagina.